ACT! CRM Cloud
ACT! CRM Cloud features
Flexibility in terms of use

Access through the web and mobile devices
Use in offline mode (remote synchronization of mobile workstations)
Local network use

Contacts and trade relations

Importing customer/prospect files
Grouping several contacts in a single company record
Included 70 fields including: Photos, Yes / No, Memo, email ...
Create your own custom fields and adapt the layout in few clicks
Monitoring activities directly from the contact form
Writing notes, tasks and sales opportunities
Add attachments to notes, history and activities
Synchronization with MS Outlook ®: appointments, contacts, e-mail attachment and activity creations
Word processor with integrated mail merge
Documents templates: e-mailing, newsletter ...
Print labels and envelopes
Locations of contacts on a map
Link with smartphones

Monitoring activities

Task List and series of activities
Sharing calendars
Customizing priorities and activities
Event Programming for all users: holidays ...
Room and equipment management

Forecasting and tracking sales opportunities

Dashboards with sales projections, objectives ...
Follow business with probabilities of success
Sales forecasting tools: charts, funnel reports
Reports margin sales / products ...
Taking into account the margin, purchase price, reference ...
List View opportunities
Defining multiple sales cycles (short, long ...)
Import product catalog with product code, purchase price ...
Inserting multiple products in a chance
One click quote
Interactive sales funnel
Export opportunities to Microsoft Excel ®

Centralized secure information

Total ou partial data sharing
Contacts private/shared/public
Access rights management (per users/teams)
Select your product ACT! CRM Cloud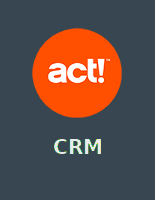 Annual subscription ACT! CRM Cloud, including:
- Outsourced Hosting in France.
- Web and mobile thin client (online access).
- Windows client for use in offline mode (offline access).
- Updates and on demand installation.
- Access to functional support (see Support tab).
- Access to the knowledge base.
- 10 GB of Cloud storage (more as option).
- English or French version.

40€ / user / month

Access to your account in 24h.
540 €
360 €
excl. VAT / user / year
-33 %